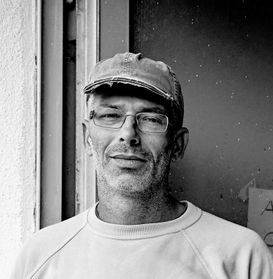 Born in Zurich in 1969, lives and works in Oberrieden.
           Education
Apprenticeship in sculpting, Zurich

Sculptor's college, Mühlheim 

Ice-carving school, Houston, Texas

Academy de la Grande Chaumière, Paris
          Since 1997 – freelancing in his own studio
          Awards
2022 Represent in SIKART / swiss ART archive

2018 VISARTE Swiss, professional association for the visuelle arts

2013 Culture prize Oberrieden
          Work in public Space
2013  

Qingdao China

. Marble sculpture

2012

 

 Ust Kamenongorsk, Kasakhstan

. Granit sculpture

2010

   Museum Swiss Tourism/ Lijiang China

2006

   Hotel Mövenpick,  Amsterdam, Netherlands

2001

  

Stone sculpture in Alvor, Portugal

2000

   

Copy of Sand sculpture in Concrete

1999

   

Entrance Creation for the Hotel Saratz, Switzerland
          Exhibition / selection
2023  Gallery Bachlechner, Groupexhibition, Bergdietikon, Switzerland

2019  Gallery Mauritiushof, Groupexhibition, Bad Zurzach, Switzeland

2018  Gallery B.Leupin Basel, Groupexhibition, Switzerland

2017  Gallery Immaginazione in Brugg, Switzerland Group exhibition

2016  Gallery Claudine Hohl, Zürich. Switzerland.

2014

 

Group exhibition, Iron Art 2014

2013  Group exhibition colliery Horgen,Switzerland

2011

  

White Turf St. Moritz, Switzerland

2008  Opening limitet edition for Migros
                       Group-Exhibition Hotel Saratz Pontresina
                       Group-Exhibition (Kunstwege-Pontresina)
2007

  

Exhibition Artbar, Brugg,

Switzerland
                       Gallery Marie Louise Wirth in Hotel Zurichber
2006  Sculpture-Art / Exhibition in the Mediacampus of Zurich

                                      

Trendboulevard 06 / Art / Trend and Design-Exhibition Zürich   

 

2005 

Exhibition Castel Wertheim,

Germany

 

2004 

Exhibition Gallery Felchlin Zürich
                        Exhibition Sonis Aureus Maag Hall Zürich with Julian Layn
2002  

Exhibition at la Baraque, Paris
                     Sculptore-Syimposium Pontresina, Switzerland
2001  

Participation at the Symposium in Pontresina, Switzerland
                        Group exhibition in Rorschach ``Haus zum Falken`` Switzerland
What drives those who create spatial images? Is it a desire to depict reality? The enjoyment of a sophisticated depiction? The autonomous creation of a body? Or even art itself? The motifs have been multi-layered since ancient times; their effects are always authentic.
An education as a stone sculptor forms the basis of Cla Coray's work. Shaping the material which is uniquely able to show our society's history and culture was to become his defining feature. His love and understanding of stone motivated him to continuously learn to work other materials: It is no accident that ice, sand, wood and iron added elementary materials which can fulfill his demands both by their versatile forming possibilities and by their inherent high quality. He successively expanded the range of specific design techniques and processing methods, expanding the limits of the craft which he originally learned into many dimensions. Even though he situatively works plastics or other non-traditional materials with his assured sense of style, Cla Coray is deeply drawn to materials which imply quality and also communicate through their worthy quality.
Realistic movement – calm dynamics – grave presence. The objects and sculptures are often based on large, generous concepts, but their story is also told in modestly dimensioned spaces as needed. Masses move mechanically in individual cases, but the subject which has been internalized with fascination is often atmospheric and symbolic. Cla Coray always forms his ideas on his own path, fittingly speaking to the observer with calmness and respect. It is pleasantly evident that the creator seeks atmosphere out of a deeply rooted desire, and finds it in a rich variety of concepts and forms.
The works share almost archaic and finely structured aesthetics – the solidity of the always carefully chosen material combines subtle elegance with lasting expression. The quality of the creation as well as the material itself becomes an integral part of the object. The design and creation process which requires a wide variety of skills becomes beautiful art in itself. Nonetheless, it is not the linear expression of a statement or symbolism, but seriousness mantled by liberal roguishness which speaks in Cla Coray's sculptures.
S. Kessler